Alumni Spotlight
2018 Outstanding Young Alumni Award - Garrett Anderson '10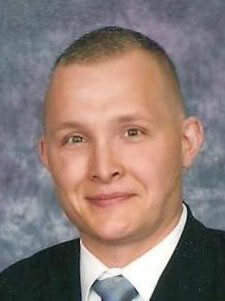 As a US Army Veteran from Central Illinois, Garrett Anderson '10 has taken his service for his fellow veterans beyond the battlefield. He strongly believes that "a soldier never leaves a fallen comrade" applies beyond a combat setting. Anderson has dedicated his service to his fellow veterans in many ways.
After graduating from Illinois State University with a degree in Criminal Justice Sciences, Anderson began working for US Congressman Rodney Davis as a constituent services representative to assist veterans in the 13th congressional district writing difficulties and challenges dealing with the Department of Veterans Affairs and the United States Military.
After leaving the U.S. Congressmen's office Anderson began his master's degree in rehabilitation counseling at the University of Illinois. Concurrently during his educational process Anderson was fundraising and raising awareness for the Chez Family Center for Wounded Veterans in Higher Education at the University of Illinois Champaign-Urbana. The center is a one-of-a-kind facility that assists veterans in their academic aspirations to be the next great generation. The center offers multiple services to the veterans, including: psychological counseling, career counseling, academic counseling, resume writing, and many other services to assist the veterans and their families.
Anderson is a motivational speaker educating schools, nonprofit organizations, and businesses about his story and the challenges and successes that he's had, and outlining the challenges that current military veterans face.
Anderson volunteers his time in many ways, including as a board member of the Illinois Secretary of State Jesse White Veteran's Advisory Council, a board member of the student-led organization DREAM (Disability Rights, Education, Activism, and Mentoring). He also volunteers his time as a coach for his daughter's basketball, volleyball, and track teams.
Anderson lives in Champaign with his wife, Sami '01, and his daughters, Skyler and Alex.